Free Shipping When You Spend $50 or More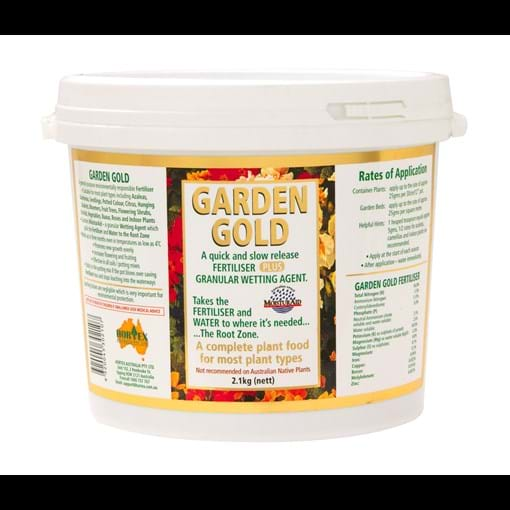 Zoom
Garden Gold 2.1kg Slow Release Plant Fertiliser
Free Shipping When You Spend $50 or More
Description
Garden Gold is a quick and slow release fertiliser plus granular wetting agent. Takes the fertiliser and water to where its needed .. the root zone. A general purpose environmentally responsible fertiliser. Suitable for most plant types including Azaleas, Gardenias, Seedlings, Potted Colour, Citrus, Hanging Baskets, Bloomers, Fruit Trees, Flowering Shrubs, Orchids, Vegetables, Buxus, Roses and Indoor Plants. Not recommended for Australian native plants.
Features
Contains MoisturAid - a granular wetting agent which pulls the fertiliser and water to the root zone.
Works up to 3 months even in temperatures as low as 4C.
Promotes new growth evenly.
Increases flowering and fruiting.
Effective in all soils/potting mixes.
Specifications
Size

2.1 kg

Other Sizes Available

Ingredient

NPK 12.8: 2.8: 8
How to Use
Apply at the start of each season After application - water immediately
Rates of Application
Container Plants: apply up to the rate of approx. 25g per 30cm/12" pot Garden Beds: apply up to the rate of approx. 25g per square metre Helpful Hints: 1 heaped teaspoon equals approx. 5g, ½ rates for azaleas, camellias and indoor plants are recommended.
Precautions
Keep out of reach of children, if swallowed seek medical advice