Free Shipping When You Spend $50 or More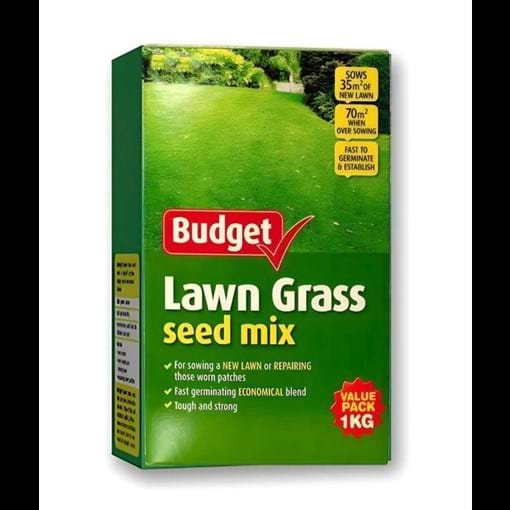 Zoom

Yates 1kg Budget Lawn Grass Seed Mix
Description
Budget Lawn Grass Seed Mix is a fast growing, economical & tough lawn seed blend that has a rich, green colour & soft texture, but is tough & hard-wearing.
Features
For sowing a new lawn or repairing those worn patches
Fast germinating economical blend
Tough and strong
Rich green colour
Hardwearing and ideal for children and pets
Specifications
Size

1 kg

Ingredient

Annual Ryegrass 50% by seed weight Perennial Ryegrass 48% by seed weight Creeping Red Fescue 2% by seed weight Blend contains 30% (by weight) bentonite (to assist with soil improvement)
How to Use
Directions for Use
1. Spray the area to be sown with a glyphosate weed killer to kill existing weeds and grasses. After they have died, rake to remove all dead weeds, stones and debris.2. Prepare soil by digging to a depth of 10-15cm and rake the ground to establish a fine texture. Contour the area as required then tread lightly to firm up the ground.3. Apply a lawn starter fertiliser at recommended rates and rake in. This will assist with early growth of the lawn.4. Divide the amount of seed to be sown in half. Sow the first half in a north-south direction and the second half in an east-west direction to ensure an even result and lightly rake over.5. Keep newly sown lawn damp at all times by watering regularly with a fine mist spray to ensure seed germinates.6. Allow new lawn to grow 7cm then mow lightly and continue for 3-4 weeks. For subsequent mowing set mower to desired height.7. When lawn is more than 6 weeks old, fertiliser with a quality lawn fertiliser.Optimum time for sowing is autumn and spring.Sows 35m2 of new lawn, 70m2 when oversowing.
Precautions
Keep ALL traffic (including dogs) off the area until the lawn is well established
Keep the newly sown lawn damp at all times by watering regularly with a fine mist spray. May require watering several times a day in hot or windy conditions
To prevent staining, sweep any split product from driveways and paths back on the lawn before watering.