Free Shipping When You Spend $50 or More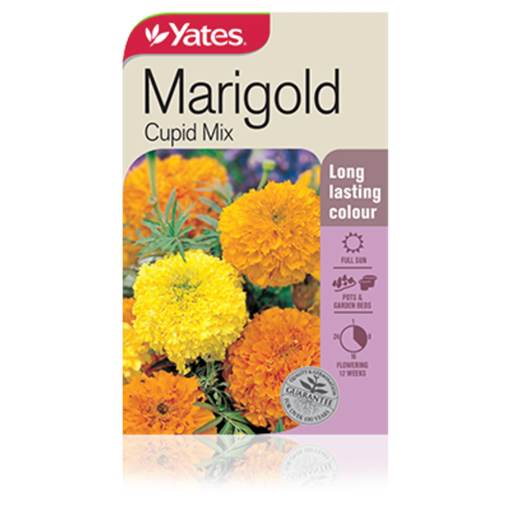 Zoom


Marigold Cupid Mix
A compact dwarf plant with large, softly-curled flowers in yellow, gold and orange.
Description
Features
Hardy annual
Pots, beds & borders
Long flowering
Climate Guide
Tropical & Sub-Tropical

All Year Around

Temperate

Late Winter to Early Summer

Cool

Spring
How to Grow
How
Sow direct where they are to grow or into trays of Yates Seed Raising Mix. Firm down, water gently and keep moist through germination period. This out or transplant when large enough to handle.
Care
Choose a warm, well-drained, sunny position. Add Yates Blood & Bone before planting and fertilise regularly with Yates Thrive Soluble Plant Food. Water regularly at base of plants. Protect from snails and slugs with Yates Blitzem.
Hint
Great companion plant for tomatoes, carrots, pumpkins, beans and onions. Remove spent flowers to encourage more blooms.