Free Shipping When You Spend $50 or More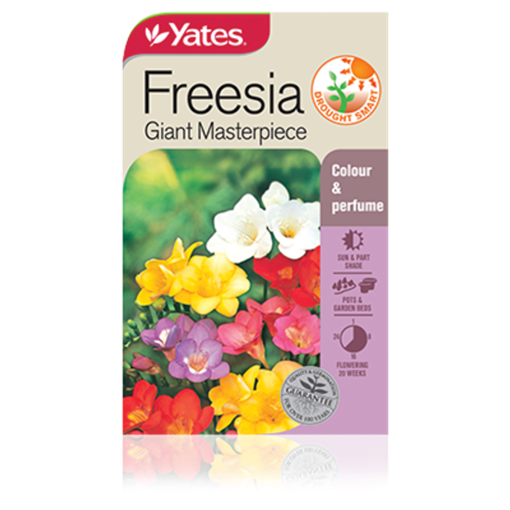 Zoom


Freesia Giant Masterpiece
A free flowering mix of bright and varied colours with a sweet fragrance.
Description
Features
Perennial
Pots & garden beds
Flowers for cutting
Climate Guide
Tropical & Sub-Tropical

Late Summer & Autumn

Temperate

Late Summer & Autumn

Cool

Late Summer & Autumn
How to Grow
How
Sow direct where they are to grow in clusters or drifts or into trays of Yates Seed Raising Mix. Firm down, water gently and keep moist through germination period. Transplant when large enough to handle.
Care
Choose a sunny or lightly shaded, well-drained position (freesias will tolerate poor soil). Add Yates Blood & Bone before planting and fertilise regularly with Yates Thrive Soluble Flower & Fruit Plant Food. Protect from snails and slugs with Yates Blitzem.
Hint
Germination may be improved by soaking seeds in tepid water for 24 hrs before sowing. Freesias will develop underground corms (bulbs) that last for years.